What is Conversion Rate Optimization?
Conversion rate optimization (CRO) is the process of optimizing your site or landing page experience based on website visitor behavior to help improve the probability of the visitor taking desired actions (conversions) on the said page.
In today's world, online traffic is highly inconsistent. If you're unable to get visitors to enter your conversion funnel in the first go, the chances of them coming back and performing the desired action are quite low.
This is nothing but an opportunity lost for your business.
The best way to improve your chances and get more conversions is by running effective conversion rate optimization campaigns.
A good conversion rate optimization campaign not only means saving high on your time, money, and efforts but also exploring new growth strategies that were unknown in the past.
In other words, conversion rate optimization helps you in understanding your website's usability better while giving customer behavior insights and tips on how to make your UX better to meet your goals.
At a strategic level, conversion rate optimization or CRO is an ongoing process of learning and optimizing.
Unfortunately, the "ongoing" aspect often gets ignored while discussing conversion rate optimization and it's elements.
What are the 6 Primary Elements of Conversion Rate Optimization?
CRO is a comprehensive process that sprawls across a multitude of stages. A successful CRO campaign is the one that uses in-depth data to analyze results, runs multiple tests, tweaks content to make it more relevant to the visitors, and draws necessary conclusions. Throughout the journey of a CRO process, a marketer will encounter six primary elements that can be optimized.
Landing Page Design
Landing page design is the first and foremost element that defines the usability and success of a website. The more aesthetically designed a site is, the more traction it will get!
Let's understand this using an example most of us may be familiar with. Assuming that most customers landing on any of Amazon's product pages come with the pure intention of buying its product(s), understanding the importance of design in driving conversions (how it can make or break a deal for the eCommerce giant), is important. The giant has strategically designed each of its product pages so as to make even the minutest of details prominently visible to its customers. For instance, when on a product page, customers can instantly add the product to their cart by conveniently clicking on the "Add to Cart" button (in a color that's prominently visible – Orange) placed right next to product information column.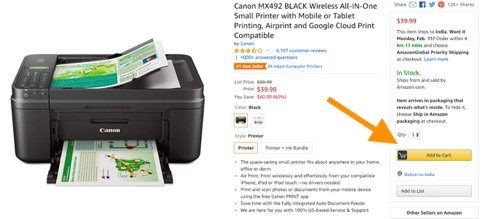 How does this help? Orange is an intense color that complements the website's white background making it easy for the visitors to identify and take the necessary action instantly.
Furthermore, the effective use of the white space to highlight the product's features and smart use of large images on the left side of the page instills trust and quickly captures the attention of the visitors.
Website Copy
While a well-designed and aesthetically pleasing website can get more website traffic flowing on your site, words can verbally hook your visitors and convert them into potential leads. Writing relevant and engaging content that emphasizes the product's persuasiveness can make the difference between visitors staying on your website and taking the necessary actions and visitors leaving your site without taking any action. Website copy can be further divided into two subsections:
1. Headline
Headlines are the first and foremost thing a visitor sees on your landing page. It typically defines their first impression of your business. If they do not like it, they'll not scroll down and check the rest of your page. To ensure you're on the right track, focus on the following things:
1. Formatting: Typically focusing on the font type, font size, and color to ensure it captures your visitors' attention and is easily readable.
2. Writing Style: Keep the following things in mind:
Ask a question – e.g. Do you know email marketing can add 30% more revenue to your business?, How to find the products of your choice? etc.
Split your content into two parts – e.g. Internet marketing: what lies in store?
Address directly – e.g. Can you rely on content marketing?
Focus on the numbers – e.g. 10 ways to ensure email marketing adds to your conversions!
In either case, one should keep the headline short and to the point ensuring it talks exactly about what the product or service is about in a clear, concise manner. – Read more
#ConversionRateOptimization